We plan to jump to the top of the ranking of the most profitable businesses and we want to take you with us! It's a clear deal: You have clients – new, old, future ones. You recommend BAZO to those who you think will develop thanks to it. Your clients' businesses are growing and you're growing with us.
It's very simple – we all win! For every user you bring in, we pay you the appropriate percentage. What percentage? Negotiate! We approach each partner individually and we are more than happy to talk to you about our mutual cooperation. So what? Interested?
What is BAZO?
Find out who is interested in your offer, how that person got to you and what interested your visitor the most. Use the potential of your website and magically turn it into an effective sales channel. And all of this in just a few clicks!
This is Szczepan
We can write for hours about how great our tool is – because it is. However, nothing will be as concrete as Szczepan – our legendary man.
Andrzej is our expert on important contacts. He will be happy to talk to you about how we cooperate with our current partners and how this can look like in your case. Interested?
Contact us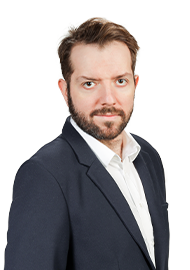 Join Piotr from Sunrise System, Piotr from SPERO or Tomasz from Moto Marketingu and become our partner.
Who is the offer for?
BAZO best complements the offer of companies such as creative studios, marketing companies, software houses, consulting companies, companies providing IT services, business services.