What is Slack?
It's hard to believe that we have to explain it to you, but be as you wish 🙂 Ask around or in the circle of your corporation buddies.
Which business communicator is the most popular?
We guarantee you that Slack will be one of the most frequently mentioned ones. No wonder. It's a hell of a good tool that improves communication in many companies! The most interesting Slack functions are undoubtedly the channels. Imagine that you can recreate there the structure of your company by assigning a separate #channel to each department, division, or project. Everything is clear, transparent, and in one place. An ideal order for communication. Brilliant!
Are there any benefits of BAZO and Slack integration?
Do you really need it? Yes! Definitely! If you are still hesitating, we'll tell you what benefits you'll get. To start with, an exercise on your imagination:
Let's say that someone from ONET team has just come to your website. Let's also assume that you've been negotiating with them for a long time, but you're still a long way from finalizing the deal. Now, make room for us: our duo enters the stage!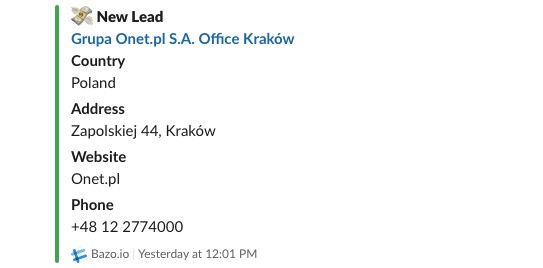 BAZO instantly identifies the company that is currently on your website. We already know – it's ONET. Now, we quickly pass this information to your Slack communicator. The information about the company's visit to the site will appear in a few seconds on the Slack channel, which you'll specify during the integration. That's it! In just a few seconds you know that it is worth reaching for your phone and contact the company, you are currently negotiating with.
Do you get it? The integration allows you to contact your potential customers even faster! All new contacts can be thrown into one channel or simply distributed among your salespeople. A direct and quick solution to fill your sales funnel.
Quick instruction
Do you remember BAZO installation? Of course not. It's only a matter of seconds! What's there to remember? Your Slack integration will be just as quick.
If you don't have an account on Slack yet, set it up now! If you don't know how to start, you can find all the necessary hints in here.
Integration? The steps are really simple:
Go to Settings and choose Integration tab.

Find Slack Integration and simply click on Add to Slack.

Now just select the channel, where you want to receive all the notifications about your new contacts from BAZO.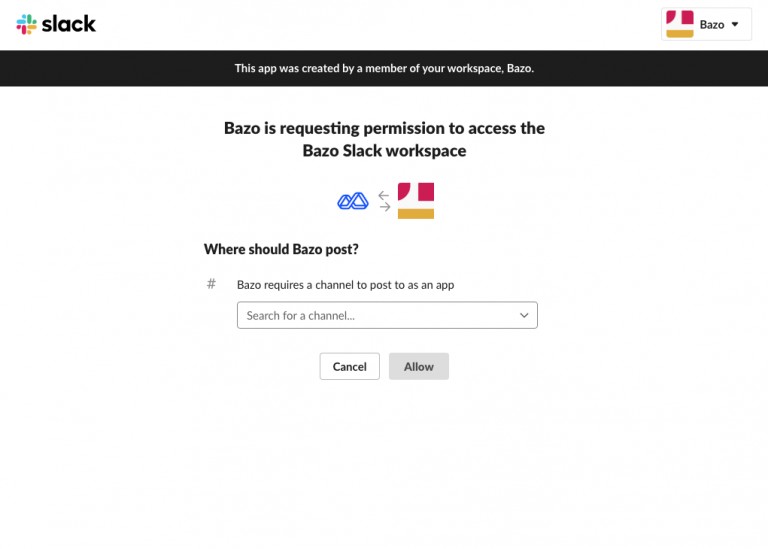 That's basically it. We've said it's easy!